Charles P. Limbert was born in Lyonsville, Pennsylvania in 1854 and died at his home outside Grand Rapids, Michigan in 1923. Charles was the son of a furniture dealer and cabinet maker, Levi H. Limbert, first joining the furniture industry as a salesman and later making chairs. However, like many of his contemporaries he became interested in the British
Arts and Crafts

movement
,
and turned his attention to creating furniture with an emphasis on the quality of the raw material and construction.
There was a large Dutch population in the Grand Rapids area, and Limbert was inspired by the culture, even visiting the Netherlands to study Dutch peasant furniture. He opened his factory in Grand Rapids in 1902, specializing in
"Dutch Arts and Crafts" style furniture and lighting. Later another factory was constructed in Holland Michigan.
Other influences were the
American Prairie School and Scottish designer and architect, Charles Rennie MacKintosh.
Like Gustav Stickley
,
Limbert
detested the term Mission Furniture
, always referring to his work as "Arts and Crafts"
Replica Limbert Cafe Chairs
These
miniature chairs
are copied from a design by Charles P. Limbert. Stickley is remaking this chair in a variety of finishes (see second last image), listing it in their catalog as 'Limbert's cafe chair'.
Mine are 2 1/2" high, 1 3/4" deep and 2 1/4" across the front. I used white oak, gave them a cherry stain and then a hand rubbed finish. I used a magenta leather for the seats. The image on the left is the original chair.
T
his is in 1:12 scale standing 2" high, is 1 1/2" wide with a 2" x 2" top.
Limbert Bench or Window Seat
This is a miniature replica of a Charles P. Limbert Wind
ow Seat in 1:24 scale. It is made of solid oak with cutouts.
The seat is 2 1/4" wide, 1" deep and 2" high.
I've included an image of the original piece that I scaled down.

Charles Limbert Daybed c1908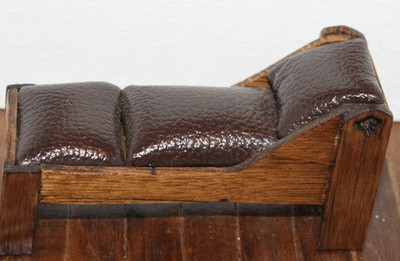 T
he design for this three cushion couch (daybed) is scaled down from a 1908 Charles Limbert piece. (Last image is original Limbert daybed) I have made several of these in a variety of woods and leather colours.
This one is oak and cranberry leather.
They measure 4 1/4" x 2" and stand 2" high at the head. Original daybed below.

Charles Limbert Cafe Table
The design for this cafe table is scaled down from a Charles P. Limbert piece.
It is made of cherry and measures 3 1/4" across the top and stands 3 1/2" high. Below is the original table.